Smith Leonard is now using My1040Data, an online alternative to the traditional paper tax organizer. My1040Data is a secure web-based interactive tax organizer that generates relevant forms and selections based on information from your prior year's tax return and your current year tax situation. It minimizes data entry and provides our clients greater flexibility through the following features:
Can be used on most desktop computers, laptops, and tablets
Standard questions have been grouped into more logical topics
Users can attach electronic copies of forms, scanned images, spreadsheets, etc.
Allows you to print a report of your information for your own records
View this quick My1040Data instructional video to learn more.
Helpful Tips:
After you login for the first time you will need to verify your identity with a verification code sent to your phone or email.
Choose "trust this device for 30 days" before you enter the verification code to avoid verifying your identity when you login for the next 30 days.
All blank yes/no type questions default to "no." Feel free to skip any questions that are not applicable to your situation.
If you answer "Yes" to a question, an additional gray tab may appear next to the one you are currently working on or an additional option will appear in the left-side menu.
That tab or additional menu option will need to be filled out as well. This is not the case for every question, but be sure to keep an eye out when you respond "yes." See images below: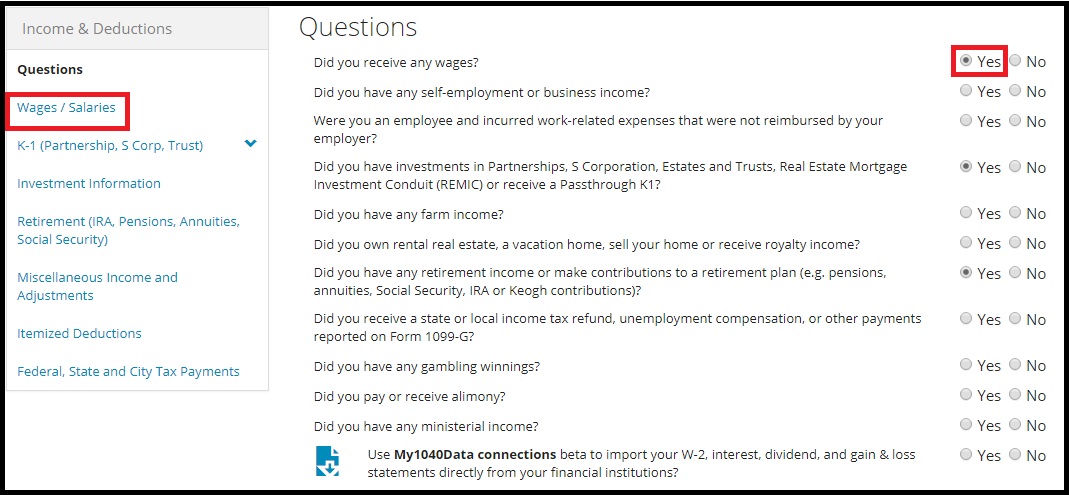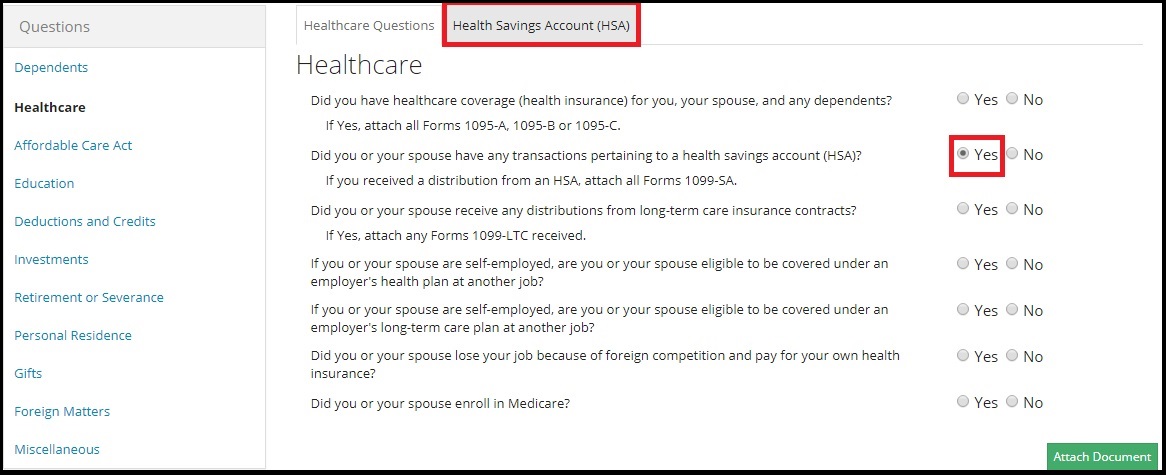 If your browser freezes on the "personal" tab, under "Mailing Address, Email Address & Telephone Numbers," there is most likely a letter in one of the phone number fields. Once you remove the letter, the page will continue to load.
You do not need to complete the organizer in one sitting. Your information will automatically save where you left off when you exit out of the browser, or log out.
Once the organizer has been sent you will NOT be able to make changes to the organizer.
Please review your answers and make sure your organizer is filled out to the best of your knowledge and all documents are attached before clicking complete.
If you need to make changes to your organizer after it has been completed, please contact our office.
Tips for Attaching Documents:
Documents can be scanned in and attached throughout the organizer. There are green buttons at the bottom of most sections of the organizer that say, "Attach Document." For mobile users, feel free to capture and upload an image of your tax documents with your camera. Please be sure that any images taken with your camera are clear before they are uploaded.
PDF formatting is preferred.
For our purposes, it does not matter where you attach your documents. You can attach all your documents in one spot, or to different pages throughout the organizer.
We understand that for various reasons sending your documents electronically may not be feasible for you. If that is the case, you can print a copy of your organizer from within the My1040data system and return your documents and organizer to us all at once. To do so, simply click on the "Review & Send" tab at the top of the My1040Data window and select "Review or print" to open a blank PDF copy of your organizer.
Please note that we cannot start preparing your return without your proper tax documents.